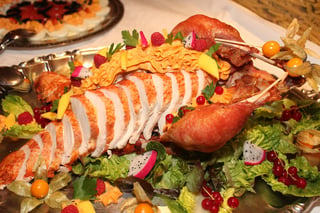 A good strategy going into this food-laden season will keep you from packing on the pounds while you're enjoying the company of friends and family at parties. But what about the food you prepare and serve to your holiday guests? If you're hosting, we have a seasonal gift for you - healthy holiday recipes and food prep alternatives that will add plenty of "yum" to your parties.
There's a way to improve the health-quotient of nearly any recipe, without sacrificing one crumb of flavor. In fact, creative substitutions often add more flavor and greater visual appeal. This season, try some of these healthy holiday recipes for your apps, entrees, and desserts:
The American Heart Association has pages of tasty, heart-healthy holiday recipes. Some examples? Rosemary Balsamic Roasted Veggies, Apple Break Pudding, homemade condiments and – you can't resist this one – heart-healthy Green Bean Casserole.
Use less of the "worst" ingredients – sugar and fat. Substitute fruit for some of the sugar in dessert recipes and you'll add festive color, too. Use olive or canola oil instead of butter for baking, and low-fat chicken broth instead of butter in mashed potatoes and sauces. Spices and herbs (fresh or dried) make delicious substitutes for fatty ingredients in casseroles.