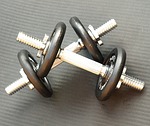 Getting started: strength training

101

If you aim to lead an active lifestyle, strength training can be an effective way to stay in shape, reach your fitness goals and lose weight. Sandra Hanson, ATC, is an athletic trainer and exercise physiologist at Ridgeview Rehab Specialties in Chaska, Minnesota. With expertise in sports performance enhancement, medically supervised weight loss, adolescent nutrition and emergency care, she shares some advice on how to strength train.

Cardiovascular exercise, strength training and flexibility are all necessary components of a well-rounded fitness program. Strength training generates the most questions. Most people can easily accomplish their cardio regimen, but they struggle to develop a comprehensive strength-training program.